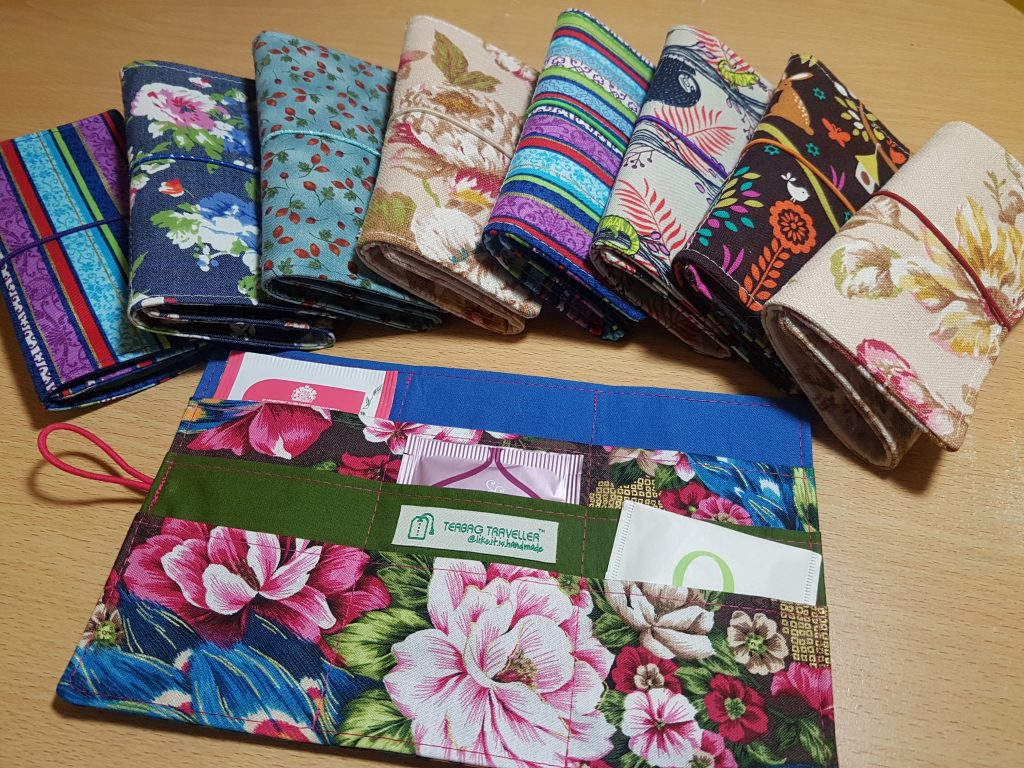 The story of the Teabag Traveller…
Like all good inventions, the Teabag Traveller was born of necessity. Technically obese on the scales, I decided to give up sugar in 2014 but my biggest hurdle was not cake or sweet chocolate treats, it was TEA! I am a tea-fiend and as a sole-parent raising my two little daughters on my own, tea became a massive comfort and I was consuming a good 8 to 12 cups of tea (anything to survive the day, right?!) each loaded with 4 heaped teaspoons of sugar!! No need to do the math (or ask what was exacerbating the insomnia, panic attacks and energy dips), I knew I needed to stop drinking "normal" tea forthwith.
Now, I'd never have the willpower to slowly reduce the amount, nor drink black tea without sugar – I am an all or nothin' kinda gal – so it was goodbye to "my precious" (sweet, sweet M&S Assam tea) and hello to GREEN TEA and HERBALS – yum! However everywhere I went I was only offered "tea or coffee" and I found that my politeness was leading me back down the black hole of sugar addiction so I decided I'd carry my own teabags and save the awkward moment of not being able to accept a cup of tea when offered – a quintessential routine of British culture.
Many months of screwed up teabags in the bottom of my handbag followed (not to mention cardigan pockets filled with spilled tea leaves upsetting my washing machine) until I saw a small tobacco pouch on Pinterest that sparked my imagination for a pocketed roll-up that would keep my teabags intact… several prototypes later and I settled on 9 pockets (because I still easily get through 8 cups of tea a day) and the final Teabag Traveller design was born.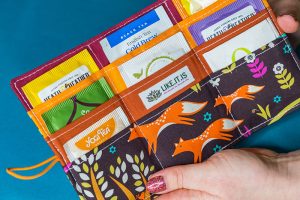 Having made my own, my friends started to request I make one for them and their friends as pressies and I realised I was not alone in my crumbly teabag mess! Fortunately the herbal tea drinking community has grown massively during my sugar-in-my-tea-free years and my Teabag Traveller has been my best seller, especially as it is now perfectly acceptable to ask for hot water and plonk your own teabag in!
So many customers tell me that they are not sure how they survived without their Teabag Traveller and that it goes everywhere with them. My ultimate aim is that the choice of fabrics and the love I have sewn into each Teabag Traveller makes it joyful to use for many years to come.
To check current stock and order your very own Teabag Traveller please use the contact form below. I am also working on getting Etsy organised so I can add stock as and when any makes get that far so do take a peek at My Etsy Shop just in case any Teabag Travellers are already listed. I look forward to sharing my love of tea and fabrics with you xx
£28.00
incs p&p and a full set of 9 delicious teabags!