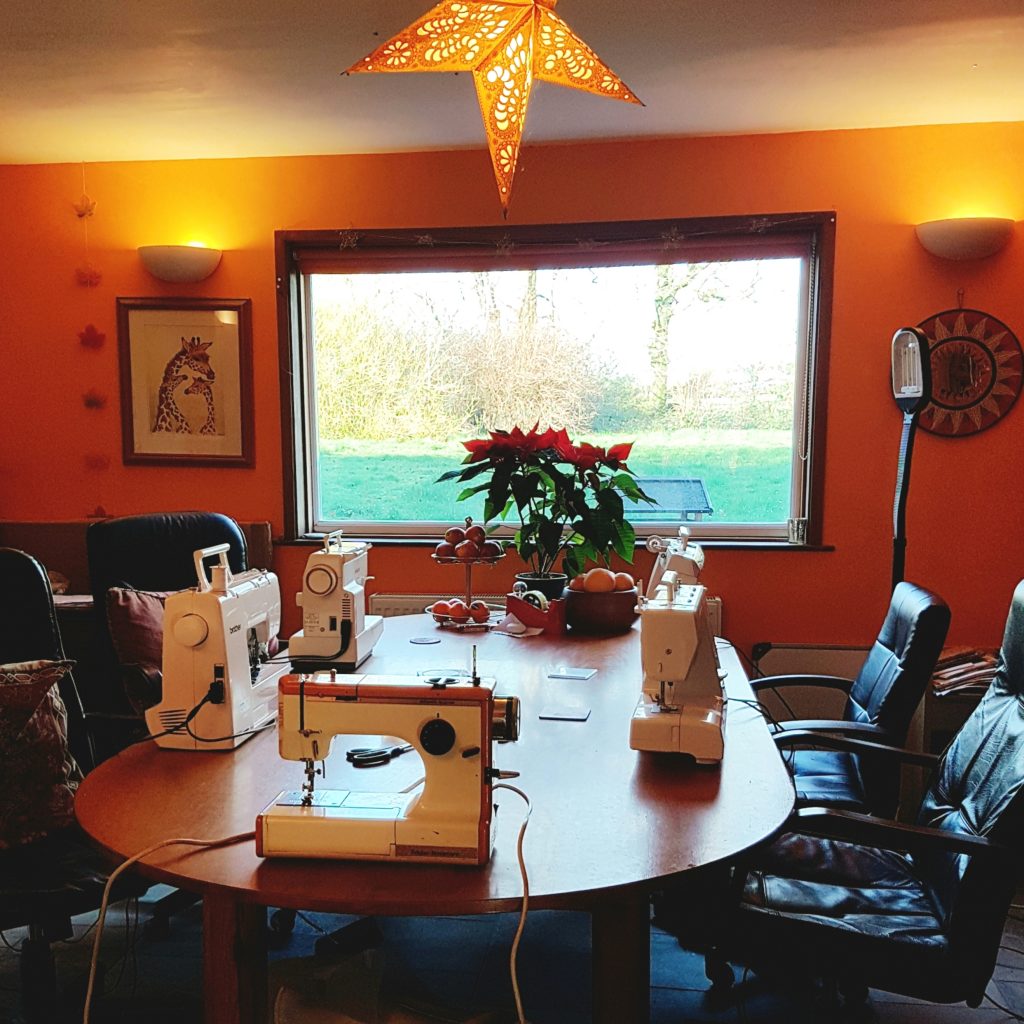 The Black Dog Sewcial group was initially inspired by my contact with numerous friends and community members who longed for social interaction but experienced mental and/or physical restrictions on getting out into their community at large.
Social isolation massively impacts your confidence and can leave you feeling unable to even make the first to step into a class environment for fear of being the odd one out or the one who might be slower to pick up the skills being taught.
Accordingly, my ultimate aim with Black Dog Sewcial is that members can use the small group experience and skill building opportunity as a bridge. A bridge forged with solid confidence for eventually attending larger community group activities that will increase inclusion and ultimately boost mental well-being for everyone involved. I use the medium of sewing as a tool to work on developing physical skills and mental focus, exploring creative flair as a means of self-expression, and distraction from our tangled minds in order to release tightly bound emotions and triggers in a safe and loving environment.
To bring Black Dog Sewcial to life I simply combined my patient and empathetic nature, a wealth of life experience, and my love of sewing and invited 4 wonderful local women to come together monthly to learn sewing skills, share stories and see where our group lead us. It has been such a success that word has spread and I have had continuing messages of interest from others in the community in need of small group support and interaction therefore I am in the process of building my application for funding so that I can offer more groups in the near future. I have also embarked upon a Psychology degree in order to develop and improve my own skills and understanding which will strengthen the impact of Black Dog Sewcial in the long run.
Meantime, my core aim remains that my group attendees feel at ease to come as they are. To brave the wilderness and reach out. Mental health challenges do leave us exhausted some days and it is these moments where we self-isolate at the very time we need support, we need love and belonging, we need distraction from the downward spiral. Black Dog Sewcial is a place to practice self acceptance and sewing!
Black Dog Sewcial is currently a closed group of 4 members and I intend to keep it that way for confidentiality and friendship/bond reasons however if you feel you could benefit from joining, please do send me a message below and make sure you join my newsletter so that I can keep you informed of developments and openings when I get funding and/or a plan in place for increasing the groups held.
I believe that together we can empower your creative and build a bridge to brighter days.